On Friday, March 17th Cambozola will go head to head with Blu di Bufala and Billy Blue will take on Ewe Calf to be KIDding. Join us on Friday to sample these cheeses and vote for your favorite.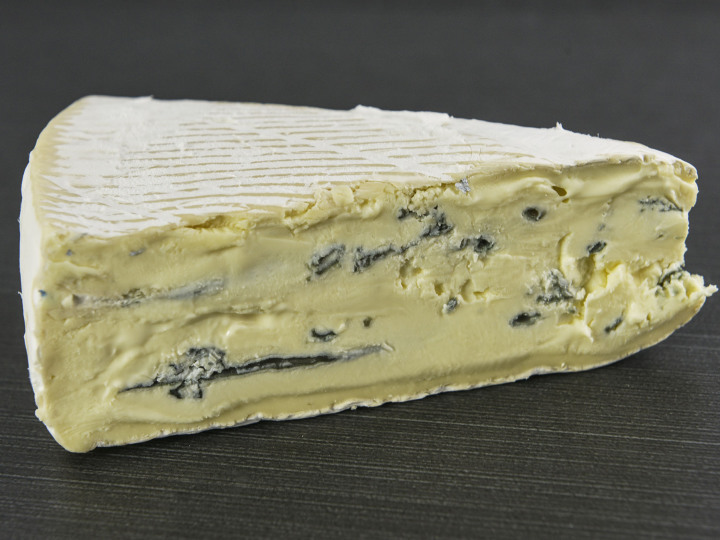 Cambozola by Käserei Champignon hailing from Allgäu, Germany
This delightful cheese is best described as a combination of a triple cream brie with the softness and light blue flavor of a young Italian gorgonzola. It makes the perfect beginner's blue. Made with pasteurized cow's milk from the Allgäu region of Bavaria, Germany. Its name comes from an ancient Roman settlement in Bavaria called Cambodunum, where the art of cheese-making flourished.
Milk: pasteurized cow milk
Texture: creamy and smooth
Rind: bloomy
Color: ivory with blue veining
Flavor: nutty, savory, sharp, sweet
Vegetarian: yes
---
Blu di Bufala by Quattro Portoni hailing from Lombardy, Italy
It is quite unusual to see an aged Italian blue made from water buffalo milk. Most of the water buffalo milk produced in Italy goes to the production of Taleggio and Mozzarella. It has a square shape and dry and wrinkly rind with a grey color. The texture of the paste ranges from creamy to crumbly.
Milk: pasteurized water buffalo milk
Texture: creamy and crumbly with hints of crystals
Rind: natural
Color: cream with minimal blue veining
Flavour: acidic, milky, sweet, tangy
Vegetarian: no
---
Billy Blue by Carr Valley hailing from LaValle, Wisconsin
Unlike most blue cheeses, which are made from cow's milk, Billy Blue is made from Wisconsin goat's milk. The chèvre and blue in Billy Blue make for an interesting combination. The pleasant goat milk flavor paired with the tangy blue make for a deliciously unique combination.
Milk: pasteurized goat milk
Texture: creamy and crumbly
Rind: natural
Color: white with plenty of blue veining
Flavour: tangy, citrusy, earthy
Vegetarian: no
---
Ewe Calf to be KIDding by Hook's Cheese hailing from Mineral Point, WI
Believed to be the first of its kind in the US, is Ewe Calf to be KIDding, is made with sheep, cow, and goat milk. Blended to ensure that each milk flavor comes out, this cheese is buttery, tangy, and earthy all in one. It highlights the best that all three kinds of milk have to offer and then the play of creamy and crunchy blue takes hold.
Milk: pasteurized sheep, cow, and goat milk
Texture: creamy and crumbly with cheese crystals
Rind: natural
Color: cream with plenty of blue veining
Flavour: tangy, buttery, citrusy, earthy
Vegetarian: no